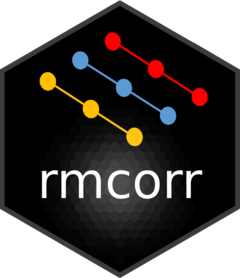 Frequently Asked Questions and Limitations
Jonathan Bakdash and Laura Marusich
2023-08-09
Source:
vignettes/FAQ_and_limitations.Rmd
FAQ_and_limitations.Rmd
Limitations
Change Over Time
In general, rmcorr is a time-independent model– it does not model change over time. A partial exception is if time is a measure, such as age in the raz2005 dataset.

Non-Linearity
Rmcorr fits a linear model. If the data are non-linear, we recommend trying to transform it (see above) or using multilevel modeling. Also see Diagnostic Plots
Varying Slopes with Influential Observations and/or Unbalanced Data
If slopes meaningfully vary by individual, we recommend using multilevel modeling instead of rmcorr. Random effect slopes are even more problematic for rmcorr with influential observations and/or highly unbalanced data. This is nicely illustrated in simulations by Dr. Marta Karas:
When rmcorr may not be ideal
Other Implementations of rmcorr
We know of three other implementations of rmcorr.
1) rmcorrShiny: Web and Standalone App with a Graphical Interface
(Marusich and Bakdash 2021)
2) Python: rm_corr in Pingouin
(Vallat 2018)
3) Stata: RMCORR
(Linden 2021)
Faul, Franz, Edgar Erdfelder, Axel Buchner, and Albert-Georg Lang. 2009.
"Statistical Power Analyses Using

G

*

Power

3.1:

Tests

for Correlation and Regression Analyses."
Behavior Research Methods
41 (4): 1149–60.
https://doi.org/10.3758/BRM.41.4.1149
.
Gelman, Andrew, and Jennifer Hill. 2007. Data Analysis Using Regression and Multilevel/Hierarchical Models. Cambridge University Press.